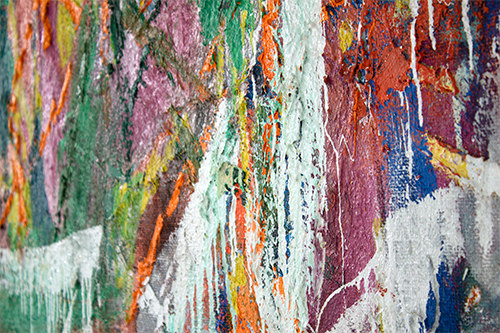 Harper's is delighted to present Literacy Devolves Into Violence, an exhibition of five new paintings on jute that will be staged in the gallery's expanded space at 87 Newtown Lane, East Hampton, and will run through August 27, 2020.

At a time when the art market clamors for figuration and the hyperrealistic, Lewis's hulking abstractions evince an era where paint and its application were of greater significance. Eschewing the calculated precision of some of his contemporaries, Lewis approaches each swath of raw jute as a temporal object waiting to explode into life. Smeared, dripped and spackled on their surfaces, layered streaks of paint dart musically across the canvas as if arranged by a series of conductors trying to erase time. The immediacy of Lewis's process belies the length of the artist's commitment to each painting, with some jutes being retooled and reimagined over the course of several months. Lewis's studio is a cacophonous symphony of works in process. At once overwhelming and soulful, the paintings that eventually graduate as finished artworks are meditations in harmony. From chaos comes majesty; from violence, gratitude.
Spencer Lewis (b. 1979 Los Angeles) received a BFA from Rhode Island School of Design, and an MFA from the University of California, Los Angeles. His work has been the subject of two solo exhibitions at Harper's, New York City (2019 and 2017); Nino Mier, Los Angeles (2016); and Edward Cella, Los Angeles (2014). His paintings have also been included in recent group shows at No Gallery, Los Angeles; Lowell Ryan Projects, Los Angeles; Harper's, East Hampton; and Brennan and Griffin, New York; among other venues. Lewis currently lives and works in Los Angeles.